Documentation
Documentation is publicly available at docs.ohanah.com. We use search-based, inovative documentation platform that helps us to tailor documenation to your needs.
Support
Support is done via Zendesk, industry-leading support platform. The listed response times in pricing table are guaranteed. However, our average response time is around 10 hours. On top of the dedicated staff, our developers are included in support as well, so they can jump in whenever their expertise is needed.
Support is only available to the users with an active subscription. To access support, log in with your account into our support portal.
Download
Support portal is also a place where you can download newest version of Ohanah.
Onboarding
To make it easier for any new user to find it's way in Ohanah, we created our onboarding system. We call it "Batman onboarding" because it's there only when you need it. It will launch automatically when you first time visit some page. You can turn it off and call it whatever you want by clicking on "Guide" button.
The onboarding is user-based, so if you make a site and give it to your client, just make a new user for him/her and onboarding will start again. Your clients will love it, and you will save a lot of time explaining basic concepts.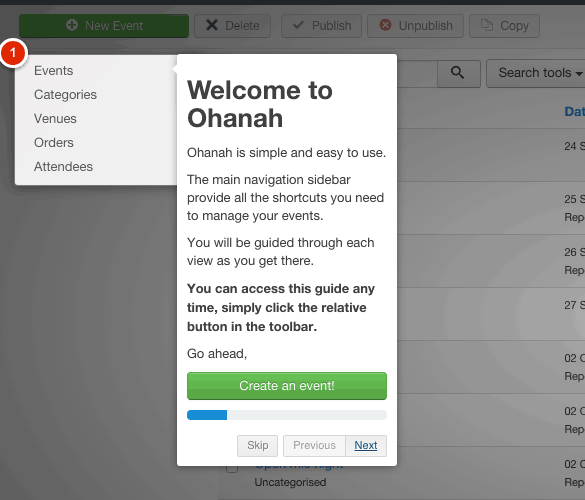 ---
Competent, in-house support staff will always be there for you.
Try Ohanah and see why thousands of customers trust us with their events.